[go_pricing id="self_cleaning"]
If you have fish, then you already know the kind of hard work that goes into cleaning the tank. The more fish you have, the more often you have to clean the tank. It takes a lot of effort to take out the fish, empty the tank, clean it thoroughly and fill it back up again.
But some fish tanks actually clean themselves, saving you all that trouble. We will look at some of the benefits of self-cleaning tanks and what makes them different from all other kinds of aquariums. Then we'll give you a few options to get you started on finding your own aquarium.
Why Use a Self Cleaning Aquarium?
The most obvious benefit of self cleaning aquarium systems, and one we have already covered a little bit, is that you don't have to go through the whole cleaning process. That saves you valuable time and gives you less work to do. Not everyone has time to clean their fish tank when it becomes dirty. Also, if you wait too long to clean the tank, your fish can become sick.
But besides just saving you time, self-cleaning tanks are simply better for your fish. By keeping a cleaner tank consistently, the fish enjoy a better, healthier environment. That means they will live longer and ingest fewer of their own toxins they are producing.
Self-cleaning fish tanks are also more appealing. You don't have to worry about cleaning your tank when company is coming over, because your tank will look clean all the time.
Types of Self Cleaning Fish Tanks
There are two basic types of self-cleaning fish tanks on the market now. These are gravity-based models and water garden tanks.
The gravity-based ones use a pump that pulls the dirty water from the tanks. The system isn't strong enough to pull the fish out, so you don't have to worry about your pets. You probably don't want the water to fall out on the floor, so you will need to place a cup under the filtration pipe when you are ready to clean the tank. Then you just turn on the system and empty out the dirty water. You can pour clean water in at the same time or wait until you have emptied out the dirty water.
Water garden tanks have an aquarium on the bottom and a small garden on the top – a self cleaning fish tank that grows food. They take all the toxins that the fish produce and use it to fertilize the plants on top of the tank. These are very convenient, because you don't really have to do anything to get the water clean. It is all taken care of automatically.
Some Self Cleaning Tanks to Consider
Which one is the best self cleaning fish tank? We have looked for products currently available out there in the self cleaning aquarium market, and frankly, there are not a lot of options. Many self-cleaning tanks are still in development stage, existing as nothing more than Kickstarter programs. That said, there are still a few solid choices, and here are our top picks.
By far the best aquarium for betta fish, in my opinion, is the Eco Qube C. This is an amazing piece of equipment for anyone looking for a home for his underwater pets. Eco Qube C is a very advanced aquarium kit, and is outstanding in every way.
Aside from its excellent durability and compactness (but proper betta fish tank size) what makes Eco Qube C so special is its outstanding filter. Instead of using a traditional filter, Eco Qube uses a plant as a filter. Yes, I know, a plant! This new and innovative filtration system has a beneficial effect on your fish, and your wallet. Eco Qube uses 90% less water and 50% less energy than a standard aquarium. The water filtered by Eco Qube is cleaner and does not contain nitrates that cause algae to spread, making you change the water more often.
This is the #1 selling self cleaning fish tank on Amazon! And it's definitely one of the most popular betta fish tanks available right now. Here, Back to the Roots offers another garden on top, fish tank on the bottom design. The pump is extra quiet on this aquarium, and it feeds the plants with waste from the fish. It even comes with a coupon to save money on a Betta fish.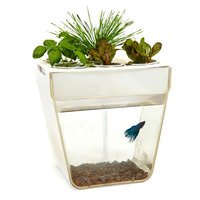 AquaFarm likes to combine fish tanks with small, indoor gardens. The Gardener's Edge has a 3-gallon capacity, which isn't very big, so you only want to use it for a few very small fishes like mollies or tetras. Don't bother getting it if you plan to buy fishes like Discus or Angel that require a bigger space to swim around.
The waste from the fish is recycled to feed the plants above instead of going back into the water. So, it helps the plants to grow and thrive instead of polluting the water of the tank and that in turn produces more oxygen around the tank to ensure optimal solubility of oxygen in the water of the fish tank.
Once again, this is a very small fish tank, and it really isn't suitable for more than a couple of fishes. This one uses a gravity method to funnel out dirty water. You would be needed to leave a glass or bucket (which is not included) beside the tank to pump out the polluted water into, then simply fill up the tank when it needs it. Although not the largest or the most functional, it's important to note that this is by far the cheapest self cleaning fish tank out there.
This starters' kit fish bowl can hold up to 4 gallons of water, so it can easily accommodate a couple (or even more for smaller fishes) mid-sized fishes like Goldfishes or Carps. With the LED Lights though, it'll look just out of the world if you keep a big enough colorful Betta fish (also known as Fighter fish) in it. It also looks very elegant and much better than a simple glass-only fish bowl with no added features.
Not only that, the built-in 'high-tech' filtration system offers biological, mechanical, and chemical filtration to ensure that it can go months at a stretch, staying clear and healthy for your fishes, before needing maintenance from your end.
In addition to the starter's kit fish bowl at 4 gallons, also available are 8 gallon, 16 gallon and 28 gallon sizes with the same features.
Well, this one is not really a fish tank, but an all-in-one 'system' that turns any ordinary 20 gallon aquarium into a self-sustaining, recycle-friendly, maintenance-free beast! This is by far the most spacious option of the lot and you can keep a lot of fishes in it. Actually, the more fishes you keep in it, the more waste they produce, which in turn produces more food for the plants on top of the tank. So, it's a perfect win-win situation for both your fishes and the plants on top of the tank.
Which Self-Cleaning Fish Tank Is the Best?
When looking at the available options, we came out with a clear winner – the Eco-cycle Aquaponics Kit. That's because it can be mounted on top of any regular 20 gallon aquarium to turn it into a self cleaning aquarium. So, you'll have to worry less about the space available for your fishes to swim.
The gravity-based fish tanks that we saw were all incredibly small, perhaps too small for even a single fish to live in comfortably. The water garden ones aren't very big, but they offer as much, if not more room than a typical fish bowl. If you want your fish to be happy, you have to go with the water garden versions until a larger gravity-based tank is released.
We also found the water garden varieties to be much easier to use. With the gravity-based ones you have to do some of the cleaning yourself. You still have to deal with dirty water, even if you don't have to take the fish out of the tank to do it. The water garden fish tanks win in this point as well, making them our overall choice for the best self cleaning fish tanks available.
Image Source: Pinterest (first image)